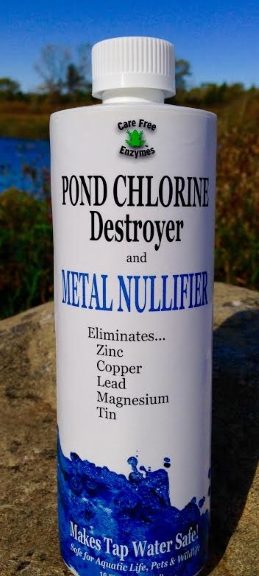 Pond Chlorine Destroyer
Pond Chlorine Destroyer
Pond Chlorine Destroyer
Item# 94102Size: 16 fl. oz.Case Pack: 12
Makes water safe for fish and aquatic plants
Kills Zinc, Copper, Tin, Lead and Magnesium
Rids water of dangerous chlorine
Rids water of heavy metals
Water that is chlorinated or has a concentration of heavy metals will not support fish and aquatic plants. Our product ensures water is balanced so you can have a healthy pond with thriving wildlife and enjoy your pond as much as possible.
Rids water of dangerous chlorine and heavy metal that can harm aquatic life. Our product eliminates zinc, copper, lead, magnesium, and tin. It is safe for aquatic life, pets and wildlife.
Metals in ponds and chlorine in ponds can be very dangerous for plants and animals inside the pond. Once a pond has metals or chlorine in it, the best way to remove them is with Pond Chlorine Destroyer.
We make ALL of our products with natural enzymes and plant oils without the use of ANY harsh chemicals. Also, when used as directed, they are completely child & animal safe. Finally, we pride ourselves on making effective products that are safe, natural, & affordable.
BUY NOW at Where to Buy