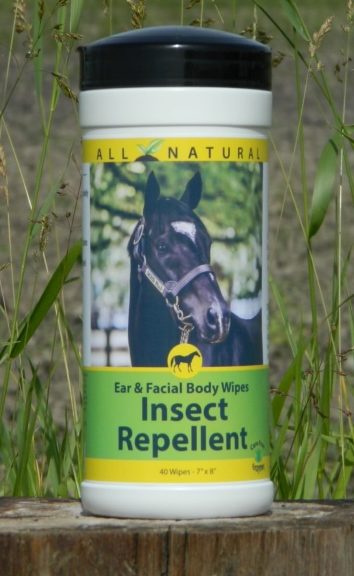 Insect Repellent for Horses
Insect Repellent for Horses
Ear & Facial Body Wipes Insect Repellent for horses
Item# 14425 | Size: 40 Wipes | Case Pack: 6
Repels all insects from horses
All Natural, Organic, Green Friendly, Chemical free, DEET free
Protects horses from all insects
Safe for horses, all animals, and humans
No age restrictions for horses
Extremely effective
Long lasting
Not greasy
Protect your horse from all insects with Ear & Facial Body Wipes Insect Repellent for horses. Guards horses from all insects including mosquitoes, gnats, sand flies, ticks, fleas, flies, and all other insects. In addition, we only make them from selective ingredients. Firstly, the ingredients are all natural. Secondly, they are organic. Thirdly, they are green friendly. The formula is DEET free. More so, the wipes are chemical free. Further, the wipes are not greasy. Also, the wipes are extremely effective over long periods of time. We specifically designed the formula to repel all insects. Additionally, our formula is safe for horses, humans, and all animals. They are safe for the whole family and pets. Further, there are no age restrictions. Horses of all ages can use the wipes. Also, the wipes are gentle. They will make your horse happy and insect free.
"Ear & Facial Body Wipes Insect Repellent are gentle for an insect free animal"
Our Ear & Facial Body Wipes Insect Repellent is the only product on the market made of all natural, organic, green friendly, chemical free, DEET free, enzymes. Enzymes are naturally occurring and completely safe for humans, animals, and nature. Most products on the market use DEETs, which are harmful to horses. We proudly have NO DEETs in our products and only use all natural enzymes!
Directions: Thread center wipe carefully through pointed cap opening. Do not put fingers into cap opening. Then, apply around eyes, mouth, and ears where irritating insects mostly accumulate and hang out.
BUY NOW at Where to Buy
Check out our other equine products here