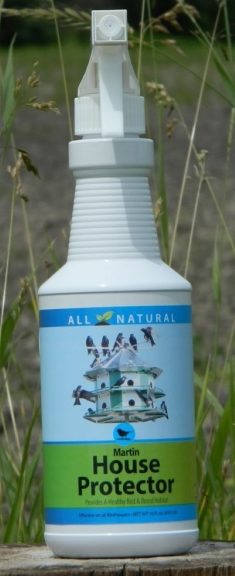 Martin House Protector
Martin House Protector
Martin House Protector
Martin House Protector
Item# 98555 Size: 16 fl. oz. Case Pack 12
Sanitizes Martin Houses and Removes Debris
Effective against numerous organic contaminants
Cleans and removes dirt, soil and debris
Environmentally safe for Birds, Pets & Wildlife
All Natural
All Natural Martin House Protector
We specifically formulated Martin House Protector for martin houses in order to provide martins the care they deserve. Further, our product cleans away bird droppings and organic contaminants. Finally, our product helps provide a healthy bird and brood habitat for martins.
Insures a natural clean and healthy environment for martins. Perfect for cleaning martin houses. Cleans and removes dirt, soil, inanimate nutrients and organic particulates that contaminate martin houses.
We make ALL of our products with natural enzymes and plant oils without the use of ANY harsh chemicals. Also, when used as directed, they are completely child and animal safe. Finally, we pride ourselves on making effective products that are safe, natural, and affordable.
Directions:
After each nesting when young have fledged, remove all nesting material. Then, mix four ounces of the product and half an ounce of dish soap in a gallon of warm water, then, add once ounce of vanilla extract to the product. Next, with a clean cloth and or brush, wash out the martin house. Spray the entire inside of the martin house. Also, no rinsing is necessary.
BUY NOW at Where to Buy