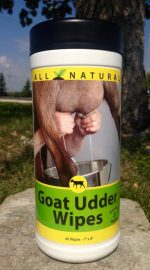 Goat Udder Wipes
Goat Udder Wipes
Goat Udder Wipes
Item# 94305 | 7″x8″ wipes | 40 Wipes
Hygienic Wipes for Goat Health – Goat Health and Care
Reduces Itching and Itching
Helps Prevent Infection and Irritation
Reduces Odors
Removes Oils and Dirt
Dissolves Waxy Build Up
Promotes Goat Health
Gentle and Non-Toxic
We designed our gentle cleansing wipes to safely  clean your goat udders before and asking milking.
A healthy animal is a happy animal. When goats are healthy they are known to live longer, put on more weight, and produce more milk.
We uniquely developed and formulated Goat Udder Wipes for cleaning udders. Additionally, we made the all-natural enzymatic blend of cleaners to safely remove oils, dirt, and secretions. Also, the low lathering formula will gently clean the entire udder. Further, by keeping the udder clean, the wipes will help to prevent infections and inflammation. Additionally, they soothe hot spots.
Our non-toxic goat udder wipes can be used to remove oils, dirt, secretions, and odors from goat udders. Goat Udder Wipes help to prevent infection and inflammation while soothing hot spots and helping to ensure the continued health of your animals.
ALL of our products are made with natural enzymes and plant oils without the use of ANY harsh chemicals. When used as directed, they are completely child & animal safe.
We pride ourselves on making effective products that are safe, natural, & cost effective.
DIRECTIONS: Thread center wipe carefully through pointed cap opening (do not put finger into cap opening). Add two ounces (2) of water to canister, prior to use, to reactivate the wipes.
BEST RESULTS: Allow the saturation of the product to cover the entire surface of the udder. Allow product to remain on udder for several minutes before wiping with a clean, damp cloth. Use the wipes prior to milking and after to ensure a clean udder.
BUY NOW at Where to Buy