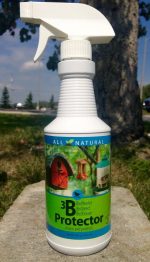 3B: Birdfeeder, Birdseed and Birdhouse Protector
3B: Birdfeeder, Birdseed and Birdhouse Protector
Birdfeeder, Birdseed and Birdhouse Protector
Item# 94721 Size: 16 fl. oz
3 in 1  cleaner for outdoor birding
Safe for all Birds
Removes Inanimate Contaminants
 3 in 1 Project
Bird feeder, Birdseed and Birdhouse Protector
3B Protector Birdfeeder, Birdseed and Birdhouse Protector cleans and removes dirt, soil, inanimate nutrients, and organic particles that contaminate birdfeeders, birdseed, and birdhouses. Also, our 3 in 1 product is perfect for all of your outdoor birding cleaning needs. Finally, our product is gentle and safe because it is made from all-natural ingredients which imitate natural cleaning processes that occur in nature.

Directions:
Birdfeeder: Remove all birdseed or nectar from feeder. Then, add four ounces of 3B to a pail of warm water. Let birdfeeder sit in solution for 10-15 minutes, remove, let air dry before adding birdseed or nectar.
Birdseed: Lucratively spray over birdseed, this will ensure birds are not consuming contaminated seed.
Birdhouse: After each fledgling of young, remove nesting material and lucratively spray 3B inside and outside entire house. Also, there is no rinsing required. Further, should contaminates be found while eggs or chicks are present, carefully remove them, remove all nesting material spray entire interior. Then replace the nesting material with new, return eggs or chicks.
BUY NOW at Where to Buy