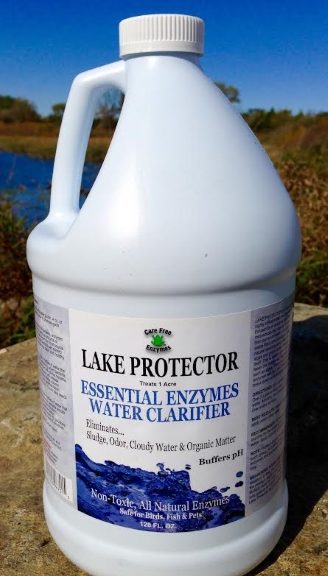 Lake Protector
Lake Protector
Lake Protector
Item# 96711  Size: 64 fl. oz.  Case Pack: 6
Item# 96701  Size: 128 fl. oz.  Case Pack: 4
Item# 96702  Size: 128 fl. oz.  Case Pack: 4 (Lake Protector Concentrate)
Please note:
1 ounce  of Lake Protector Treats 8000 Gallons
1 ounce of Lake Protector Concentrate Treats 16000 Gallons
Both concentrate and non concentrate versions:

Promote healthy and natural lake water
Keeps Water Clean and Clear
Encourage Biological reactions which cause organic substances to decompose
Diminish unpleasant odors
Break down contaminants
Contain All-Natural Ingredients
Restore Water to clarity
Remove non public health organisms
Lake Protector
Highly concentrated and formulated for all multi-component filtration systems. Further, we designed it to stimulate and accelerate natural biological reactions that cause organic  substances to decompose. Also, we formulated it for bodies of water with 50,000 to 500,000 gallons. Further, it diminishes unpleasant odors. Also, our product is made up of thousands of different enzymes that break down contaminants for Mother Nature's bacteria to absorb. Additionally, we made it out of Biodegradable, non-toxic, all-natural, bacteria-free enzymes. Finally, an aeration system is highly recommended to circulate water for proper distribution of enzymes. Use monthly.
64 fl. oz. Application: 1/2 Gallon treats 512,000 gallons or 1/2 Acre
128 fl. oz. Application: Gallon treats 1,024,000 gallons or 1 Acre (1oz treats 8,000 gallons)
(Concentrate Application: Gallon treats 2,048,000 gallons or 2 Acres (1oz treats 16,000 gallons)
Water Gardening – Lake Flyer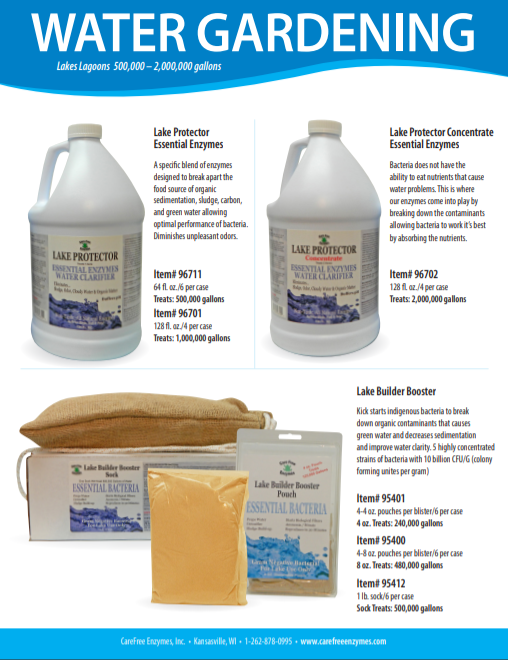 BUY NOW at Where to Buy