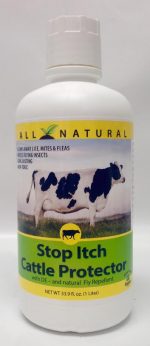 Stop Itch Cattle Protector
Stop Itch Cattle Protector
Stop Itch Cattle Protector
Item# 94048 | Size: 33.9 fl. oz. | Case Pack: 12
Item# 94049 | Size: 128 fl. oz. | Case Pack: 4
Creates a protective barrier around pests
Effective on Lice, Mites, Tics and Fleas and Mosquitoes
Safe and Gentle
Promotes Cattle Health
All-Natural
Long Lasting
A healthy animal is a happy animal. Also, when cattle are healthy they are known to live longer, put on more weight, and produce more milk.
Stop Itch Cattle Protector
Animals itch for several reasons, most often it is because parasitic insects are biting them. More so, these insects can infect the animals with viruses and deteriorate their health over time. Additionally, Stop Itch will give your animals relief from the never ending intrusion of common parasites and protect your animals from potential harm they can cause.
Stop Itch Cattle Protector combats parasites at all stages of their life cycle removing mature parasites, eggs, larva, and pupa. Further, it is extremely effective against lice, mites, fleas, and ticks which potentially carry bacteria and viruses that are harmful to your cattle. Also, our product features an added blend of natural oils that are known to repel biting horse flies, and mosquitoes by creating a protective barrier on and around your cattle. Additionally, we added DE (Diatomaceous Earth), a natural powder made from algae, to our product to provide a longer protective period for your animals.
Parasite Free Cattle are likely to have a longer lifespan and better demeanor
All ingredients meet EPA requirements as a minimum risk pesticide under the 25(b) FIFRA

Carefree Enzyems represent that the the product qualified for exemption under the 25(b) FIFRA. Also, we make ALL of our products with natural enzymes and plant oils without the use of ANY harsh chemicals. When used as directed, they are completely child & animal safe.
BUY NOW at Where to Buy