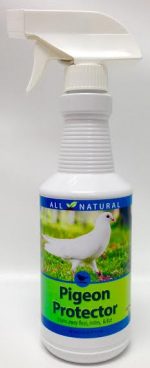 Pigeon Protector
Pigeon Protector
All Natural Pigeon Protector
Item# 94114 Size: 16 fl. oz. spray Case Pack: 6
Fights Parasites and & Odors
Cleans away Lice and Mites
Eliminates Odors
Safe and Gentle
All Natural Ingredients
All Natural and Organic Product
Sprays away parasites that live on the birds as well as in the cracks and crevices of lofts and nesting boxes. Red Mites and Feather Louse are well known and commonly found parasites that live in lofts, nesting boxes and on pigeons. Pigeon Protector is effective at cleaning away the eggs, larvae pupae and adult stage parasites. Our product also is effective in eliminating odors while being animal safe and gentle on the birds.
Protector is an all natural solution to cleaning away fleas, mites and lice. Further, the all natural solution cleans away parasites without the use of harsh and harmful chemicals. Also, Laboratory studies have shown that parasites affect the health and performance of birds. Finally, body weight, feed efficiency and general health are poorer in birds that are exposed to even small amounts of infestation of parasites.
We make ALL of our products with natural enzymes and plant oils without the use of ANY harsh chemicals. Also, when used as directed, they are completely child & animal safe. Finally, we pride ourselves on making effective products that are safe, natural, & affordable.
BUY NOW at Where to Buy
Check out our other Birding Products here