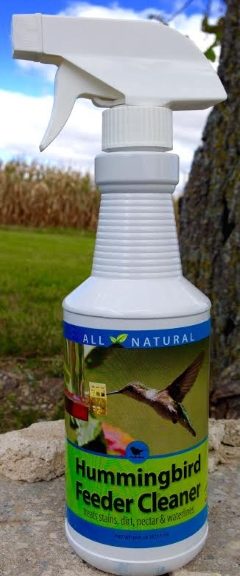 Hummingbird Feeder Cleaner
Hummingbird Feeder Cleaner
Hummingbird Feeder Cleaner
Item# 98556 Size: 16 fl. oz.Case Pack: 12
Perfect cleaning for messy Hummingbird feeders!
Hummingbird Feeder Cleaner
Spend less time cleaning lisinopril 10 mg hummingbird feeders and more time enjoying your birds. Further, a clean feeder is more likely to attract hummingbirds and a feeder cleaned with a safe product will help keep your birds healthy and coming back year after year!
Cleans away:
Nectar stains augmenting breastfeeding on feeders and surrounding areas
Water Lines
Organic Debris
This product can be used on the following feeders:
Glass
Acrylic
Plastic
Ceramic
We proudly make our product non toxic, all natural, biodegradable, bacteria free, chemical free, and green friendly.
Our products are made with all-natural food-grade enzymes that are safe for all animals.
Hint: You can make your own hummingbird nectar at home! First, add 1/4 gabapentin dosage cup of pure granulated cane sugar with 1 full cup of water. Then, heat water and stir doxycycline until all sugar is dissolved then let mixture cool. Also, your homemade nectar will have no food coloring or extra preservatives/ ingredients. Finally, the red color of your feeder will continue to attract hummingbirds and your freshly made nectar will be sure to bring repeat customers 🙂

Directions:
For Hummingbird Feeders: Drain excess nectar from feeder. Firstly, mix one full cap full into one gallon of warm water. Then, place the feeder in water and let it soak for several minutes. Next, lightly scrub inside and outside of the feeder and rinse it with clean water. Then, let it dry. Finally, fill it with fresh Nectar.
For Stubborn Water Lines: let the feeder soak in enzymes mixture for 15 minutes. Then, lightly scrub it. Finally, let it dry before refilling.
For Mineral Deposits: Mineral Deposits are very stubborn. However, with time and several cleanings, mineral deposits will slowly begin to be removed.
Maintain Healthy Birdhouses and Birdfeeders
BUY NOW at Where to Buy