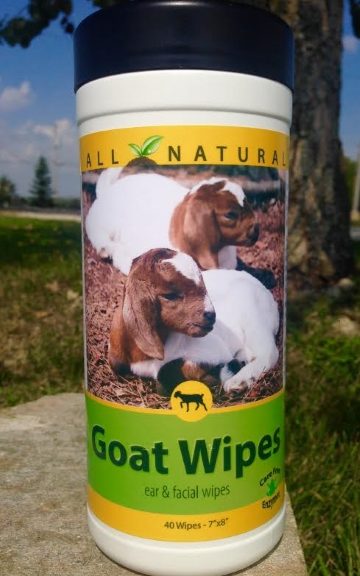 Goat Wipes – Ear & Facial Wipes
Goat Wipes – Ear & Facial Wipes
Goat Wipes – Ear & Facial Wipes
The Goat Wipes are all natural, organic, chemical free, and green friendly. Further, the Goat Wipes remove oils, dirt and secretions to prevent infections and inflammation. Also, they eliminate unpleasant odors. Further, it dissolves waxy build-up. Additionally, they purify ears from mites.
Item# 94304 7″x8″ wipes 40 Wipes
Hygienic Wipes for Infection Prevention and Parasite Control – Goat Health and Care
Cleans away Lice, Mites, Tics and Fleas from Face and Ears
Reduces Irritation and Itching
All-Natural Odor Eliminator
Dissolves Dirt and Grease
Helps Prevent Infection
Gentle and Safe
Promotes Goat Health
Goat Wipes are gentle cleansers made to remove oils dirt and secretion's, to prevent infections and inflammation
A healthy animal is a happy animal. When goats are healthy they are known to live longer, put on more weight, and produce more milk.
Our wipes aid in reducing irritation or itching on the face and ears, help eliminate unpleasant odors from ears and face, dissolve waxy build-up, and purify ears from parasitic mites. Further, they help ensure the continued health of your animals by reducing infection risk. Also, they improve the demeanor of your animals by reducing irritation. Additionally, Our product is gentle and can be used on Nannies, Billies, and Kids
We make ALL of our products with natural enzymes and plant oils, without the use of ANY harsh chemicals. Further, when used as directed, they are completely child & animal safe.
We pride ourselves on making effective products that are safe, natural, & cost effective.
BUY NOW at Where to Buy