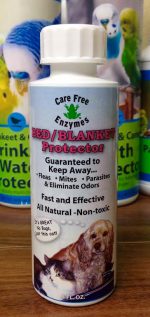 Bed and Blanket Protector
Bed and Blanket Protector
Bed and Blanket Protector
Item# 10010  Size: 4 fl. oz. spray  Case Pack: 12
Odor Eliminator and Parasite Control
Keeps away Parasites and Mites
Treats Urine and Faces odors
All Natural and Pet Safe
This amazing product breaks down odors, oils and other residue left behind by bodily secretion. Parasites are brought in by animals and will breed in bedding. When applied regularly, our product prevents odors and keeps away parasites. Bed & Blanket Protector works on all types of fabrics and is SAFE for dyed fabrics.
Our product is the Ultimate Odor Fighter, Cleaner and Stain Destroyer.
Discover the Power of Enzymes!
1. Repels: 
2. Eliminates All Natural Pet Odors 
3. Use to Sanitize Blankets & Bedding
4. Add to Washing Machine to remove stains! 
Our blend of all-natural enzymes is fantastic for removing pet odors and stains while repelling harmful bugs that love dogs & cats.
Enzymes are naturally occurring & we guarantee our product is 100% child & pet safe when used as directed.
Our product is guaranteed to keep away fleas, mites, and parasites. Also, it will eliminate odors. Further, it is fast and effective.
BUY NOW at Where to Buy