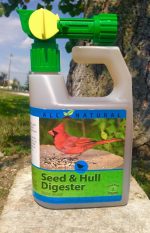 Seed and Hull Digester
Seed and Hull Digester
Seed and Hull Digester
Item# 94720Size: 32 fl. oz. Hose End SprayerCase Pack: 6
Item# 94727Size: 33.9 fl. oz.Case Pack: 6
For use under Birdfeeders and Birdhouses
Cleans away E-coli Bacteria, Salmonella and Parasites
Cleans Inanimate Organic Particles and Contaminents
Sanitizes areas under and around birdhouses and feeders
Will not harm grass
Safe for use around birds, plants and wildlife
Seed and Hull Digester
Simply attach Seed and Hull Digester to your garden hose and turn the nozzle to the "ON" position then spray around the base of birdhouses and birdfeeders. Also, it naturally cleans and eliminates harmful bacteria such as E-coli and Salmonella that commonly live around the base of birdhouses and feeders. Then, the product quickly decomposes birdseed, hulls and other organic materials. Finally, our enzyme product digests these materials down into basic components that are easily absorbed into the environment.
Digests birdseed naturally. Also, it cleans away organic and other harmful contaminants.
Bird Feeders
The ground beneath bird feeders are a breeding ground for contamination. Thus, Bird droppings should be treated with our product. Finally, a simple spray provides for a cleaner environment for birds to scavenge freely.
Birdhouses
Birdhouses are a common depository for bird droppings, nesting material, egg shells and other organic material. Further, this can lead to contamination and an unsanitary environment. Finally, our product is effective in naturally decomposing contaminated material.
Our treatment provides and ensures a clean habitat for birds to scavenge.
BUY NOW at Where to Buy